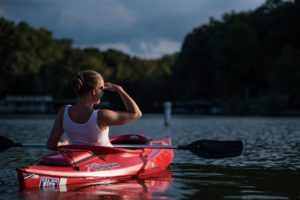 A neighborhood full of crisp nature and sprawling green spaces, yet minutes from a metropolitan hot spot. A community set among flowing waterways, yet easily connected to freeways. A place where you can leave the stress of your workday behind you, but swiftly make your way to the office on Monday morning. A home that caters to your lifestyle with comfortable spaces and unique details yet doesn't break the bank. If you think that having the best of seclusion, convenience, and value is impossible, then you haven't seen The Reserve on the Saluda.
Where you live, it matters. It is where you spend most of your time, meet new friends, and make a significant investment. You may be looking to raise a family, or find a place to enjoy your retirement. When selecting a home, choosing something in a nature-inspired community has a lot of benefits. Natural settings are relaxing, and give a sense of peace.  Open green spaces and geographical landmarks make way for a multitude of opportunities to enjoy outdoor sports, hiking, neighborhood gatherings, and more. However, if a community is too far away from a city center, residents may start to feel too secluded and get annoyed with long commutes.
Of course, being in the middle of a bustling city center also has its perks. From easy access to shopping, dining, and entertainment, to minimal every day commutes to business and medical centers. But, living in a city may not be for everyone. While the energy and excitement may be fun for a night or two, some families would like an alternative living environment.
The Reserve on the Saluda is a perfect example of a secluded, environmentally-designed, friendly community, offering access to Ridgeline Park, ideal for canoeing, paddle boarding, and kayaking, and a serene walking trail framed by hardwood forests that guide you to the famous Saluda River. However, just across the river from Columbia, The Reserve on the Saluda is only a short drive to popular locales in the heart of downtown Columbia. The State Capitol Building, the University of South Carolina campus, and businesses centers are a quick five-minute drive, as well as the Kroger Center, the Colonial Center, and the Carolina Coliseum.
The Reserve on the Saluda combines private, exclusive living with the amenities and conveniences of city life. It is one of the only neighborhoods in the country that has an exceptionally communal atmosphere, yet still, feels reserved because of the beautiful natural landscape. Here you will find country-life without the seclusion, and city-life without the hustle and bustle. Where else can you find the best of both worlds?