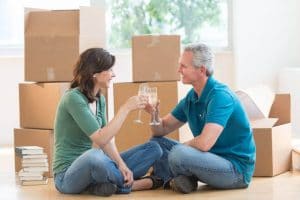 People move for many reasons. Maybe they started a new job or want to explore a fresh city. There are several good reasons to start an adventure by moving to a different neighborhood. If you're thinking about planning to relocate, you're not alone. Thousands of people are all over the country. The trick is finding the next perfect place to call home.
Below are the top eight reasons people decide to move:
Homeownership
Buying your first house is the American dream. Moving on from renting to actually owning a home is a big step into adulthood. Just because you are looking for your first house doesn't mean you shouldn't get what you want. First-time homebuyers shouldn't rule out working with a builder to get exactly what they hope for in a new residence.
Better Neighborhood
Maybe you love your home, but your neighborhood isn't offering you anything extra. Many people have come to realize that living in a community that offers experiences for outdoor fun and relaxation is worth making a move for. The Reserve on the Saluda is a neighborhood full of crisp nature and sprawling green spaces, and is the perfect example of a friendly community, offering access to Ridgeline Park, ideal for canoeing, paddle boarding, and kayaking.
Relationships
Many people relocate because their relationship status changes. Marriage (or divorce) changes how much space you need, and finding a different home that will suit you better is a smart decision.
Job Changes
Whether it is a promotion, a job transfer, or a career change, what you do for a living significantly impacts where you live. If you have worked hard and got the job of your dreams, then why not look for the home of your dreams. If your commute is overwhelming, then it may be time to move closer to your office.
Upgrading
Maybe your first home is not big enough anymore because of a growing family and it is time to upgrade, or after years of hard work you are ready to find a more spacious place. Upgrading can be anything from extra bedrooms to adding a basement. The Reserve on the Saluda offers many designs that cater to your lifestyle with comfortable spaces and unique details.
Downsizing
People choose to downsize for several reasons, many times when the kids move out and they don't need the extra space. Not only does downsizing usually mean a smaller mortgage payment, but it also decreases utility and maintenance costs.
Ready for a Change
Maybe there is not a significant life change that has happened yet, but you just want something different. Starting over in a new home isn't just about finding a different place to live. It also allows you to make more friends, explore fresh surroundings, and discover additional hobbies.
Retirement
As people retire, their needs and wants change in what type of house they prefer. Sometimes they want to be closer to family or away from the hustle of the city. They prefer to have more relaxed surroundings, or that would like leisure activities to be easily accessible.
Any of these reasons are an excellent motivation to start over in a new place. Everyone is in search of a better life, whether it is finding some peace and quiet in your neighborhood park, or no longer needing to wait in line for the bathroom. The perfect house is waiting for you.